Racist Hispanic Quotes in the New York Times
Written by commonsensejournal on November 17th, 2007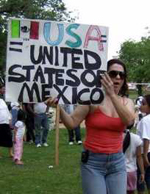 The New York Times has a story about how a few Hispanic names have made it into the top 10 of most common American names, due to massive immigration (both legal and illegal). The Hispanic (those of descent from the Spanish imperialists (Conquistadors), who slaughtered the Aztecs and other peoples after sailing from Spain) numbers have jumped 58 percent in the 1990s! Strangely, the NY Times reporter doesn't point out the racism in this quote:
Luis Padilla, 48, a banker who has lived in Miami since he arrived from Colombia 14 years ago, greeted the ascendance of Hispanic surnames enthusiastically.

"It shows we're getting stronger," Mr. Padilla said. "If there's that many of us to outnumber the Anglo names, it's a great thing."
Padilla is just another ignorant racist who thinks in terms of categorizing people by race. Some have called this "brown supremacy," though Hispanics obviously are not better than people who are not Hispanic, in any way. I have many Hispanic friends and thankfully most of them are nothing like this. They have friends of many different races–White, Black, Asian–and they don't care about planning to take over America with people "like them."
Sadly, if we don't curb illegal immigration we will be a one-party country, with most of these illegal immigrants voting for Democrats and other socialists (those who don't believe in personal responsibility but want total government control, where everyone is equally poor and no one wants to work because you get paid the same regardless of difficulty or intelligence required for a job).
Republicans want the government to protect innocent life, punish murderers and rapists and other evil people, and Democrats want to punish hard working, normal Americans by stealing their money and giving it to useless bureacracy. It has been proven in countless studies that socialism leads to economic disaster, because there is no incentive to work hard, or work at all. But with people like elected-now-dictator Hugo Chavez being elected into office and now consolidating power, that's frightening for our country. If people are stupid enough to vote for Chavez, they should not be allowed into this country, based on personal responsibility and hard work.
Besides, the crime rates where illegal immigrants have been going have shot up. As Ann Coulter put it, if it were up to Democrats, we'd have two Latin Americas. If we keep illegal immigration the way it is, we not only allow our borders to be porous and let terrorists from countries liek Syria and Iran in, but our environment will continue to be destroyed from overpopulation and urban sprawl. Secure our borders and keep these racists out!