Becky Garrison the anti-Christian propagandist
Written by commonsensejournal on July 26th, 2007
So on our Common Sense Journal myspace profile we got a friends request from Becky Garrison, the leftist "Christian" who has written a book that supposedly picks on both left wing and right wing Christians. From her myspace profile:
In my book Red and Blue God, Black and Blue Church, I take aim at the battles between the warring political factions in America's churches and illuminates both the plank in the Religious Right's eye as well as the speck that blinds the Progressive Left.
The weird thing is is that I've already gotten a friends request from her on 4 or 5 different myspace profiles I run for other political organizations or religious web sites. Is she sitting there adding people all day? Or using a friend add bot?
I accepted her friends request and posted a comment. I said basically that who is she to say who has the speck and who has the plank in the eye? What's worse, killing a baby via abortion or newborn murder (born alive infants) or throwing a baby into the dumpster (a left wing "virtue"), or wanting to lower taxes, a more conservative virtue? Isn't it conservatives who have the speck, since they are at least not advocating murder and are for responsibility, and leftists who have the plank, who advocate abortion and are soft on crime such as murder and rape and try to find excuses to blame society or the victim?
What about conviction, the concept of sin and redemption, and personal responsibility?
I don't necessarily toe the line on some Republican issues, for example, I am for the right for people to defend their house with a gun, but not for assault weapons. Not surprisingly, gnostic-"Christian" Brian McLaren has enorsed her book as well as a web site called Landover Baptist that bashes the church using the Straw Man fallacy, but doesn't offer any good examples of a church. I also asked as a side note if she uses a Friend Adder bot since I've gotten so many requests from her on multiple profiles.
I predicted she wouldn't approve the comment, since leftists only are tolerant if you agree with them, and therefore are not tolerant at all.
The next day she wrote back, after of course not approving the comment:
I don't use a bot adder but add sites that I feel might want to dialogue – if you don't want people adding you, then you can set your settings to private. BG
No duh! I didn't mind the friend invite and I actually approved and commented. So I wrote back, paraphrase:
Becky Garrison:
I didn't mind your friend invite, I was just wondering why you keep adding all these different profiles I run, and if you use a spambot or something. You say you want to dialogue, so then why didn't you approve the comment? Do you only approve comments from atheists/leftists/gnostic christians, or people who disagree with you as well? Do you only appove comments that bash Christians? You didn't approve our comment, but you approved a comment that featured a person throwing the cross into a garbage can. Interesting.

You don't want dialogue, otherwise you would have e-mailed me and approved the comment. Feel free to post a comment on our profile, and we can respond for dialogue.
I didn't hear back, so I went to my sent folder and noticed that she had blocked me. So much for "dialogue." She doesn't add people she wants to dialogue with, but rather she adds people to hawk her book that bashes anyone who is a follower of Christ who is also conservative and not a leftist. And if you post any dissention to her leftist and misguided/ignorant dogma on her myspace, she blocks you.
She wouldn't approve a comment with meaningful dialogue about how she cherry picks from the bible and only quotes verses that agree with her leftist dogma (not really any verses like that, but they can be taken out of context and twisted to "fit" leftist stance. The devil tried to use scripture for his purposes as well). But Garrison approved the comment of a person throwing away the cross in a trash can, as well as these comments, all on her profile as of July 26, 2007, many of which are from many months ago. She could have deleted them or not approve them:


A person named Nick left this comment yesterday, which Garrison approved. Apparently Garrison's version of "Christianity" involves torturing people. Interesting.

The whores of babylon were sure to post a comment.

Garrison allowed the Sex Workers organization to promote their porn and prostitution on her myspace page. Didn't Jesus say "go and sin no more" to the prostitute? Oh wait that would require common sense and a moral guide.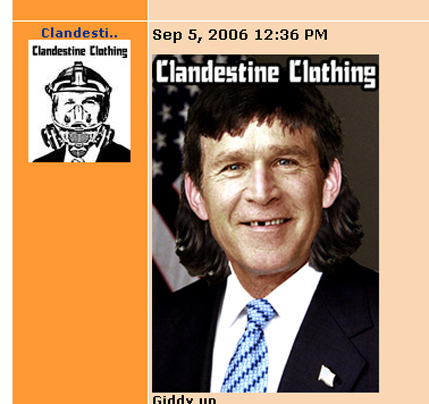 Bush featured as a mullet-wearing inbred.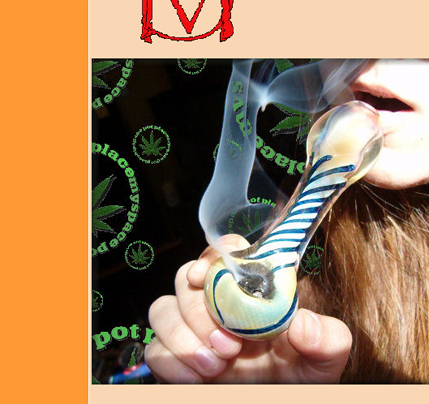 Garrison let someone promote illegal drugs on her profile as well.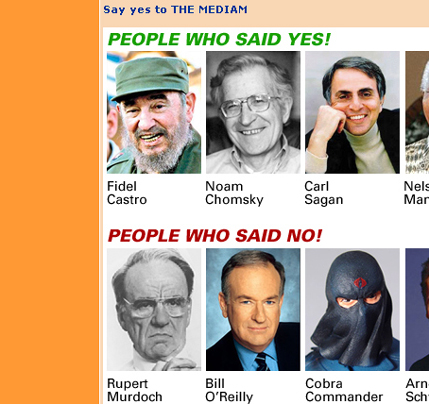 Someone supporting Fidel Castro the communist dictator and comparing some conservatives to a fictional villain from G.I. Joe commented this idiocy.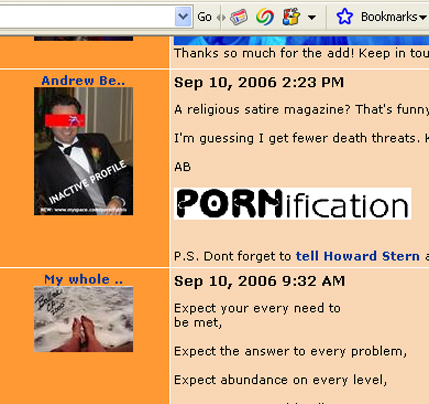 Garrison let this "pornifier" promote himself on her profile, saying he has written a "sacrilegous work" that is pornographic.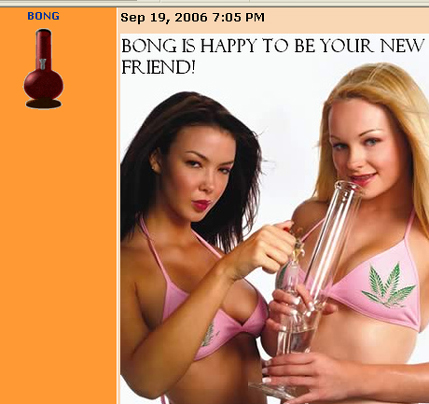 Another bong company.

Comparing Bush to the devil is an lazy way of not actually debating.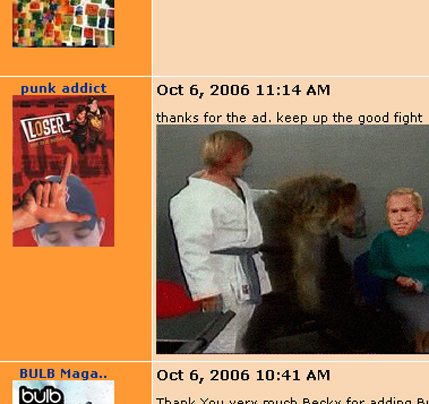 Another violence-advocating image, this one features a bear mauling President Bush.

Uh oh, cue the obligatory leftist anti-Semitism! I wonder if Garrison owns a copy of the Protocols of the Elders of Zion.

Classy.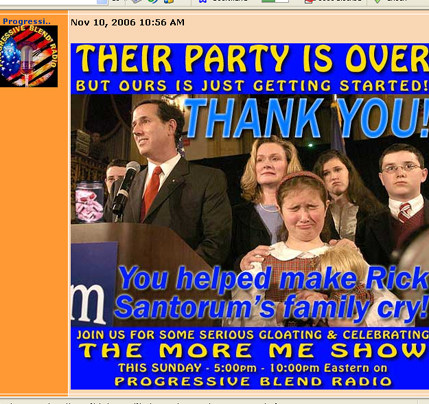 Garrison approved a photo that makes fun of a girl crying.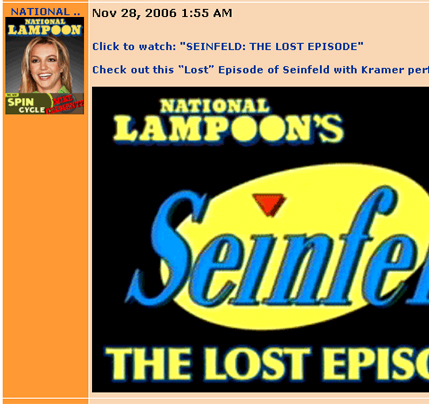 Garrison let her profile promote a video that compares black people to monkeys.

Classy.

Atheists promoting themselves and comparing a belief in a higher power to a belief in a flying plate of spaghetti.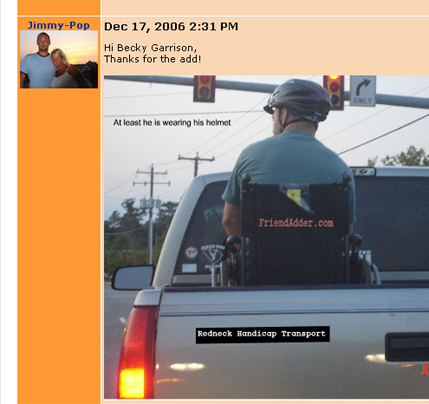 An image that makes fun of handicapped people, or is an advertisement for a spambot friend adder?

An atheist promoting his site on Garrison's profile calling Jesus Christ a "superfraud."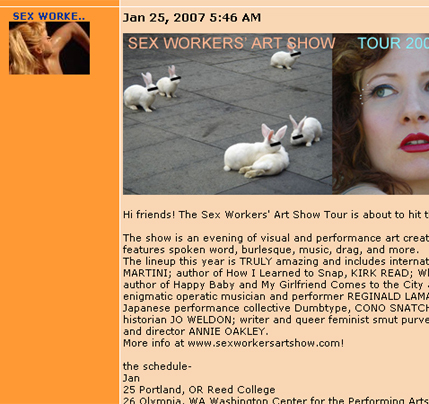 Yet another advertisement for a pornography business.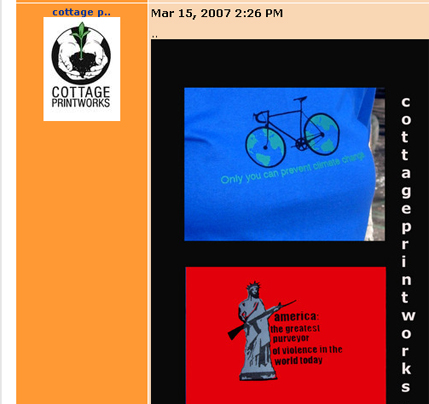 An image falsely stating that America is the biggest purveyor of violence in the world. Actually, Islamic terrorism is.
So to summarize, Garrison pretends to be tolerant but only tolerates porn, dehumanization of women through prostitution, militant atheism, anti-Christian, and anti-Semitic comments but won't approve a comment that challenges her misguided/errant leftist dogma. She doesn't add people to dialogue, but rather to hawk her book, even if those people she adds aren't people but just other spammers.