China Plans to Drill off U.S. Coast
Written by commonsensejournal on May 9th, 2006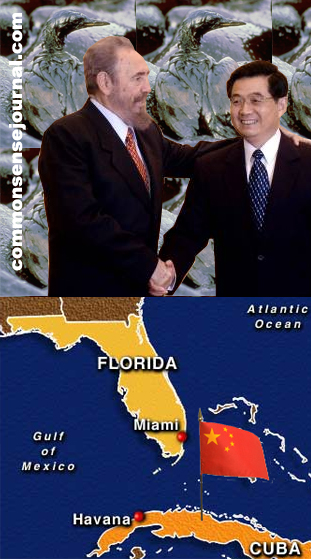 Imagine black oil washing up onto the shore of Key West and other beaches in South Florida, choking and killing thousands of birds, fish and other wildlife. It would be the Exxon Valdez all over again, but this time instead of off the Alaskan coast, it would be on the beautiful beaches of South Florida. Florida would then lose billions of dollars in tourism dollars and would need federal dollars to help clean up this mess.
That's what could happen if China gets its way and begins drilling north of Cuba, just 45 miles from Key West and an accident occurred. It's bad enough that China wants to drill for oil just miles from the the United States.
While some politicians want to drill off the Florida coast, Senator Bill Nelson of Florida rightly points out that a Cuban oil spill could devastate Florida's environment and $50-billion tourism industry. He wants to block drilling north of Cuba:
"Any oil spill 45 miles from Key West is going to absolutely devastate all those delicate coral reefs, the fragile Florida Keys, and would endanger pristine beaches all the way up to Fort Pierce," said Nelson, a Democrat.

Cuba pumps about 80,000 barrels of oil a day in Havana and Matanzas provinces, but it is of poor quality and meets less than half of the country's needs.

Thus there has been considerable excitement about fields off the northwest Cuban coast that could contain 4.5-billion to 9-billion barrels of oil – almost as much as in the Arctic National Wildlife Refuge in Alaska.

In February 2005, Castro announced that huge Chinese drilling rigs would be used to further explore areas in which a Spanish company had reported promising results. The Cuban government also signed a contract with China's oil and gas company, Sinopec, to work in areas around the island thought to contain oil deposits.
We should prevent them from drilling anywhere near the U.S. Coast, with military ships if neccessary. Why not? It threatens billions of dollars in tourism revenue, plus I don't want anything Chinese that close to our shores.
Source: St. Pete Times